Fiction
by Hilma Wolitzer

by Elmore Leonard
The revered New York Times bestselling author, recognized as "America's greatest crime writer" (Newsweek), brings back U.S. Marshal Raylan Givens, the mesmerizing hero of Pronto, Riding the Rap, and the hit FX series Justified.
With the closing of the Harlan County, Kentucky, coal mines, marijuana has become the biggest cash crop in the state. A hundred pounds of it can gross $300,000, but that's chump change compared to the quarter million a human body can get you—especially when it's sold off piece by piece.
So when Dickie and Coover Crowe, dope-dealing brothers known for sampling their own supply, decide to branch out into the body business, it's up to U.S. Marshal Raylan Givens to stop them. But Raylan isn't your average marshal; he's the laconic, Stetson-wearing, fast-drawing lawman who juggles dozens of cases at a time and always shoots to kill. But by the time Raylan finds out who's making the cuts, he's lying naked in a bathtub, with Layla, the cool transplant nurse, about to go for his kidneys.
The bad guys are mostly gals this time around: Layla, the nurse who collect
s kidneys and sells them for ten grand a piece; Carol Conlan, a hard-charging coal-mine executive not above ordering a cohort to shoot point-blank a man who's standing in her way; and Jackie Nevada, a beautiful sometime college student who can outplay anyone at the poker table and who suddenly finds herself being tracked by a handsome U.S. marshal.
Dark and droll, Raylan is pure Elmore Leonard—a page-turner filled with the sparkling dialogue and sly suspense that are the hallmarks of this modern master.- Amazon.com
by William Landay
Andy Barber has been an assistant district attorney in his suburban Massachusetts county for more than twenty years. He is respected in his community, tenacious in the courtroom, and happy at home with his wife, Laurie, and son, Jacob. But when a shocking crime shatters their New England town, Andy is blindsided by what happens next: His fourteen-year-old son is charged with the murder of a fellow student.

Every parental instinct Andy has rallies to protect his boy. Jacob insists that he is innocent, and Andy believes him. Andy must. He's his father. But as damning facts and shocking revelations surface, as a marriage threatens to crumble and the trial intensifies, as the crisis reveals how little a father knows about his son, Andy will face a trial of his own—between loyalty and justice, between truth and allegation, between a past he's tried to bury and a future he cannot conceive.

Award-winning author William Landay has written the consummate novel of an embattled family in crisis—a suspenseful, character-driven mystery that is also a spellbinding tale of guilt, betrayal, and the terrifying speed at which our lives can spin out of control. -Amazon.com
Non

-

Fiction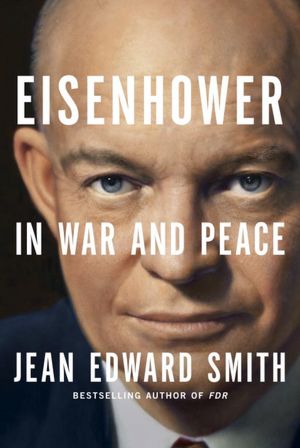 by Jean Edward Smith
"Stimulating and informative."
In his magisterial bestseller FDR, Jean Edward Smith gave us a fresh, modern look at one of the most indelible figures in American history. Now this peerless biographer returns with a new life of Dwight D. Eisenhower that is as full, rich, and revealing as anything ever written about America's thirty-fourth president. As America searches for new heroes to lead it out of its present-day predicaments, Jean Edward Smith's achievement lies in reintroducing us to a hero from the past whose virtues have become clouded in the mists of history.

Here is Eisenhower the young dreamer, charting a course from Abilene, Kansas, to West Point, to Paris under Pershing, and beyond. Drawing on a wealth of untapped primary sources, Smith provides new insight into Ike's maddening apprenticeship under Douglas MacArthur in Washington and the Philippines. Then the whole panorama of World War II unfolds, with Eisenhower's superlative generalship forging the Allied path to victory through multiple reversals of fortune in North Africa and Italy, culminating in the triumphant invasion of Normandy. Smith also gives us an intriguing examination of Ike's finances, details his wartime affair with Kay Summersby, and reveals the inside story of the 1952 Republican convention that catapulted him to the White House.

Smith's chronicle of Eisenhower's presidential years is as compelling as it is comprehensive. Derided by his detractors as a somnambulant caretaker, Eisenhower emerges in Smith's perceptive retelling as both a canny politician and a skillful, decisive leader. Smith convincingly portrays an Eisenhower who engineered an end to America's three-year no-win war in Korea, resisted calls for preventative wars against the Soviet Union and China, and boldly deployed the Seventh Fleet to protect Formosa from invasion. This Eisenhower, Smith shows us, stared down Khrushchev over Berlin and forced the withdrawal of British, French, and Israeli forces from the Suez Canal. He managed not only to keep the peace—after Ike made peace in Korea, not one American soldier was killed in action during his tenure—but also to enhance America's prestige in the Middle East and throughout the world.
Domestically, Eisenhower reduced defense spending, balanced the budget, constructed the interstate highway system, and provided social security coverage for millions who were self-employed. Ike believed that traditional American values encompassed change and progress.

Unmatched in insight, Eisenhower in War and Peace at last gives us an Eisenhower for our time—and for the ages. -Amazon.com
by Bill Turnbull
by Tamar Adler
In this meditation on cooking and eating, Tamar Adler weaves philosophy and instruction into approachable lessons on feeding ourselves well. An Everlasting Meal demonstrates the implicit frugality in cooking. In essays on forgotten skills such as boiling, suggestions for what to do when cooking seems like a chore, and strategies for preparing, storing, and transforming ingredients for a week's worth of satisfying, delicious meals,
Tamar reminds us of the practical pleasures of eating. She explains what cooks in the world's great kitchens know: that the best meals rely on the ends of the meals that came before them. With that in mind, she shows how we often throw away the bones, skins, and peels we need to make our food both more affordable and better. She also reminds readers that almost all kitchen mistakes can be remedied. Summoning respectable meals from the humblest ingredients, Tamar breathes life into the belief that we can start cooking from wherever we are, with whatever we have.
An empowering, indispensable work, An Everlasting Meal is an elegant testimony to the value of cooking. -Amazon.com
Young Adult
by Stephen Chbosky
by John Green
Despite the tumor-shrinking medical miracle that has bought her a few years, Hazel has never been anything but terminal, her final chapter inscribed upon diagnosis. But when a gorgeous plot twist named Augustus Waters suddenly appears at Cancer Kid Support Group, Hazel's story is about to be completely rewritten.

Insightful, bold, irreverent, and raw, The Fault in Our Stars is award-winning author John Green's most ambitious and heartbreaking work yet, brilliantly exploring the funny, thrilling, and tragic business of being alive and in love. - Amazon.com
by Paul Fleischman
A vacant lot, rat-infested and filled with garbage, looked like no place for a garden. Especially to a neighborhood of strangers where no one seems to care. Until one day, a young girl clears a small space and digs into the hard-packed soil to plant her precious bean seeds. Suddenly, the soil holds promise: To Curtis, who believes he can win back Lateesha's heart with a harvest of tomatoes; to Virgil's dad, who seems a fortune to be made from growing lettuce; and even to Mariclea, sixteen and pregnant, wishing she were dead.

Thirteen very different voices--old, young, Haitian, Hispanic, tough, haunted, and hopeful tell one amazing story about a garden that transforms a neighborhood.

An old man seeking renewal, a young girl connecting to a father she never knew, a pregnant teenager dreading motherhood.Thirteen voices tell one story of the flowering of a vacant city lot into a neighborhood garden. Old, young, Jamaican, Korean, Hispanic, tough, haunted, hopeful'Newbery Medal winner Paul Fleischman weaves characters as diverse as the plants they grow into a rich, multi-layered exploration of how a community is born and nurtured in an urban environment. . - Amazon.com
by Francisco X. Stork
Marcelo Sandoval hears music no one else can hear--part of the autism-like impairment no doctor has been able to identify--and he's always attended a special school where his differences have been protected. But the summer after his junior year, his father demands that Marcelo work in his law firm's mailroom in order to experience "the real world." - Amazon.com
Juvenile Fiction
by R.J. Polacio
I won't describe what I look like. Whatever you're thinking, it's probably worse. August Pullman was born with a facial deformity that, up until now, has prevented him from going to a mainstream school. Starting 5th grade at Beecher Prep, he wants nothing more than to be treated as an ordinary kid—but his new classmates can't get past Auggie's extraordinary face. WONDER, now a New York Times bestseller, begins from Auggie's point of view, but soon switches to include his classmates, his sister, her boyfriend, and others. These perspectives converge in a portrait of one community's struggle with empathy, compassion, and acceptance.

In a world where bullying among young people is an epidemic, this is a refreshing new narrative full of heart and hope. R.J. Palacio has called her debut novel "a meditation on kindness" —indeed, every reader will come away with a greater appreciation for the simple courage of friendship. Auggie is a hero to root for, a diamond in the rough who proves that you can't blend in when you were born to stand out. - Amazon.com